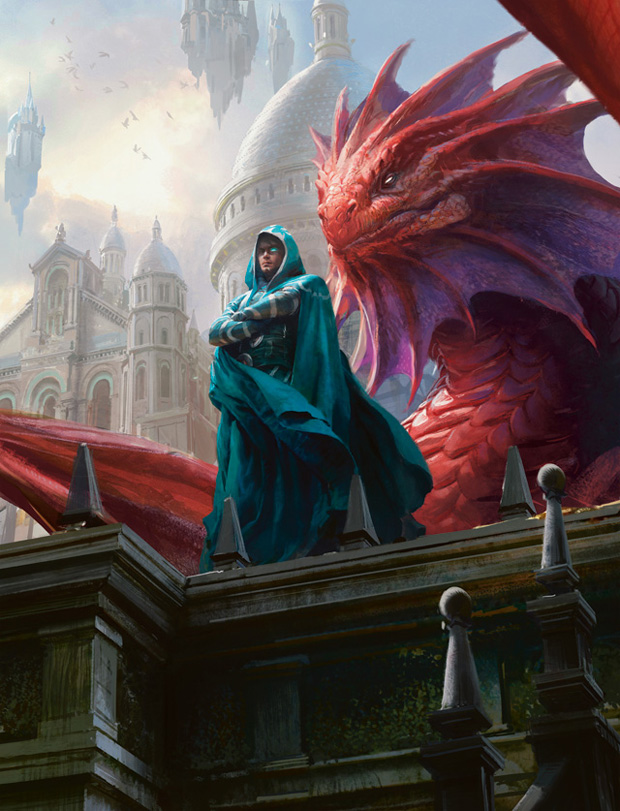 With Return to Ravnica slowly revealing itself, and the new Niv-Mizzet spoiled last night, I decided to go back and look at my Niv-Mizzet, the Firemind Commander deck from a few years back when I had a solid group of Commander players. Funny thing is, as a group, we were very much defensive players who cast big things and then just waited for the game to play itself out. That's not the case in Commander games I've played since then, so I'm going to go through this deck one card at a time (except basic lands) and decide whether that given card is worth keeping. I imagine that many of these cards that don't make it will be replaced by some awesome Izzet stuff in Return to Ravnica when it comes out. I would like to note that I'm purposefully not including Ophidian Eye, Tandem Lookout or Curiosity because I'm interested in playing Magic, not pissing off my opponent with a degenerate two-card combo. It's a game, let's play.
I'll go from lowest to highest converted mana cost, with nonbasic lands first, rendering judgement on whether a card GOES, STAYS, or is put ON PROBATION. 
But before we get to nonbasic lands, let's start with Commander Niv:
Niv-Mizzet, The Firemind
Comparing with the new one, I have to say that I'm sticking with the Guildpact version. I get the impression that Dracogenius isn't going to combo well with any of the shenanigans I have in the deck currently and seems more like a hilariously great companion piece to go with Firemind. Now for Standard or Limited, I'd vastly prefer Dracogenius, but this is Commander! I want to draw 10 cards in one turn and kill your Mycoloth without spending 12 mana. Verdict: STAYS
me in every single restaurant ever: i'll have the chicken fingers
I used to obsess over side projects with singular themes.

A movie review website that comes from a perspective of people who watch blockbusters AND independent stuff! A twitter feed based on a single fictional character! A video blog that only lasted two weeks and had a beginning, middle, and end! (At least I finished that one.)

And well, I just never had a damn place where I could rant and just vomit words into the Internet. But I needed one of those! And I haven't had one until now. Yes, as of this very moment, with this christening post, I have a blog.

Not just a writing blog, or a film blog, or a video blog, or a Magic: The Gathering blog, a goddamn blog. For bloggery. And things. I can put anything I want on here. It's all up to me! I don't have to listen to anyone or pay attention to anything. I can link to things and make up words!
Oh I also have a tradition of gifing up all my 8 bit dudes. Maybe I'll make a super montage sometime of the DnD giants, Dragon Lance characters, and planeswalkers.
(via vedalkenghurl)
A Christian magazine is devoting a full-page ad to raising awareness about LGBT youth homelessness. Wow. More.

 Faith in humanity restored temporarily

yes yes YES 

COME ON CHRISTIANITY YOU CAN DO IT

WOOOOO

Fuck yes, this is awesome news.
FINALLY
Real Life

"I'm so sick of Valentine's Day."

Internet

"I'm so sick of everyone complaining about Valentine's Day."

Real Life

"God I'm tired of the Super Bowl demanding so much attention from everyone I know."

Internet

"Why can't I just watch the Super Bowl without being accosted by people?"

Real Life

"Let's watch some mainstream television with advertisements."

Internet

"Let's watch some mainstream television for free with no ads! And then let's make gifs of our favorite parts and share them with the rest of the Internet!"

Hey I never said opposite was bad.
I made this because you should watch Community and NBC is not doing enough to promote it, and what little it does promote doesn't accurately show how awesome the series is!
So watch this and/or show it to people who need an introduction to Community :D
and by beat, I mean completed the main quest and the mage guild quests, so I'm at the point where I can at least feel like I have closure with the game.
Until Zelda comes out and I devote my time to that.